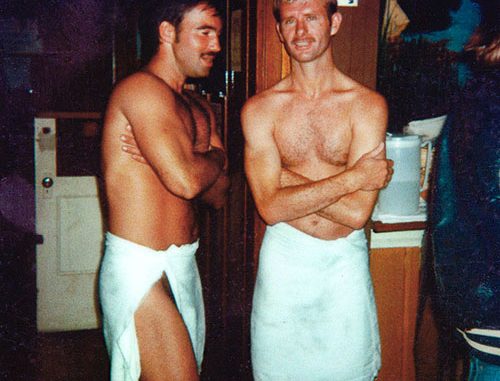 I had previously written a blog post about the Fairoaks Baths Exhibit in 2010. I was going to write a follow-up as the exhibit will be in New York City in July. Imagine my surprise to find a comment on this exhibit from Gary Freeman, its curator. Thanks Gary! You just saved me a ton of work writing about the event. All I have to do is copy and paste your comment into its own blog post!
Here it is below.
This is an announcement and an invitation to come to the opening of the Fairoaks Baths show next month in New York City (July 11, 2014). It has been a long-standing goal for the Fairoaks Project to show at The Leslie Lohman Museum of Gay and Lesbian Art and it's finally here and we are going to have a grand party.
For those who are unfamiliar with the exhibit, it is a rare Look inside a SF Gay Bathhouse in 1978
Frank Melleno's Polaroid photography captured an extraordinary glimpse into pre-AIDS gay sexual culture. Melleno was part-owner and night manager of The Fairoaks Hotel, a unique San Francisco bathhouse operating from 1977 to 1979. His candid images are remarkable, documenting the social and sexual behavior with celebration and no apology.
The Fairoaks was owned and operated by a gay commune, lending a counter-culture approach to the establishment. There were monthly theme parties including costume and "Open Door" parties, when room doors would be removed from hinges. Many images contain nudity and erotic scenes.
The restored images, known as Frank Melleno's Fairoaks Baths, were well received at Los Angeles venues Highways and drkrm/Gallery and at the Center for Sex & Culture in San Francisco. The Advocate and Lambda Literary have written articles on The Fairoaks.
The Boyfriend, a singing trio tracing its origin to performance artist Vaginal Davis, will perform at the opening.
This new show will contain many new images that have not been seen before including the one on the Fairoaks postcard. The opening will feature once again "The Boyfriend" who has performed at all of the Fairoaks openings. Please forward this invitation to friends in New York who will have their first chance to see it. Below I have enclosed the details of the opening at the Prince Street Project Space of the Leslie-Lohman Museum and a short description of the show. The Fairoaks was reviewed this month in The Advocate (link here to see more pictures)
More information can be found at The Fairoaks Project official website.
I hope you can make it or let your friends in NYC know. Lots of people from the West Coast will be traveling there to celebrate this lively period of gay erotic history.
Queer culture lives,
Gary Freeman
Fairoaks Curator
Fairoaks Baths: photography by Frank Melleno
Polaroids from a San Francisco bathhouse in 1978
Curated by Gary Freeman
Open Reception July 11, 2014 6-8pm
Performance by The Boyfriend
Exhibition July 12-13, noon-6pm
Prince St. Project Space of the Leslie-Lohman Museum of Gay and Lesbian Art 127-B Prince St., New York, NY 10012 (At Prince & Wooster)