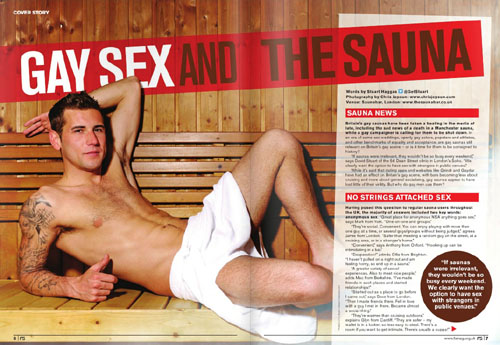 Gay Sauna Sex In The UK. OK enough of this doom and gloom, time for something different. One of the reasons to go to the baths. That is to view all that hot eye candy! Hot, hunky, smoking hot men. Absolutely gorgeous!
The gay men's health magazine from the UK, FS Magazine, has recently done a photo layout and article on Gay Sex and the Sauna. Because Britain's gay saunas have been in the news lately, the magazine wanted to change the channel. Writing about the good things that gay saunas can offer.
While it is all not sunshine, gay saunas are not that bad. As long as you know the rules and its etiquette. Which the magazine writes about. Or rather what Stuart Haggas has written with beautiful photography by Chris Jepson. The basic question asked is this. Are gay saunas still relevant on Britain's gay scene–or is it time for them to be consigned to history?
The model in this photo-shoot is former Mr Gay UK and XX model Dan Broughton, with Saunabar in London as its backdrop.
So don't forget to read the article linked above. To see more of these sexy images featuring Dan Broughton at Saunabar go to Chris Jepson's other website Manshooter