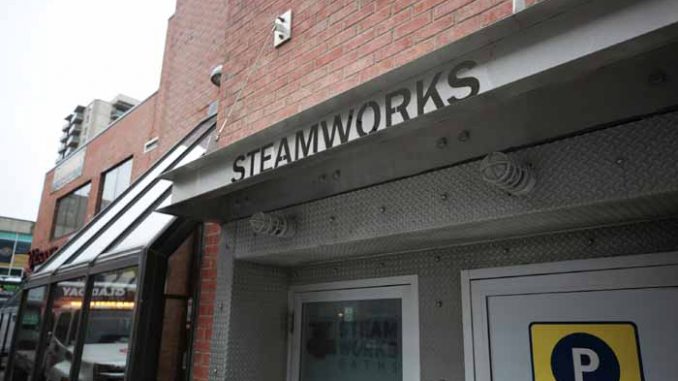 Steamworks Toronto is the first gay business in Toronto "Gay Village" to be unionized with the United Food & Commercial Workers.
One person tweeted this as a victory writing:
It's a win worthy of a towel swing! Workers at Steamworks bathhouse in Toronto's gay village voted #UnionYas. They have joined United Food & Commercial Workers 1006A
Union Organizer Graeme Lamb has been an employee of Steamworks for five years and spearheaded the effort. Lamb says their campaign received broad support from the gay community as well as allies of the community.
One person on Twitter alleged:
Boss ordered them to break COVID protocols & threatened to fire them en masse.
No proof of that claim. However, organized labor such as United Weed Workers and UFCW Local 1006A showed up at several demonstrations to add their support – UFCW Local 1006A tweeting:
A pair of Fightback comrades in Toronto attended today's rally hosted by @UFCW1006A to support Steamworks bathhouse workers in their campaign for union representation. #onlab
There has been no comment from Steamworks on its Toronto location being unionized.
Watch below as Graeme Lamb speaks to the media on the vote that has made Steamworks Toronto the FIRST gay business in the community to be unionized.