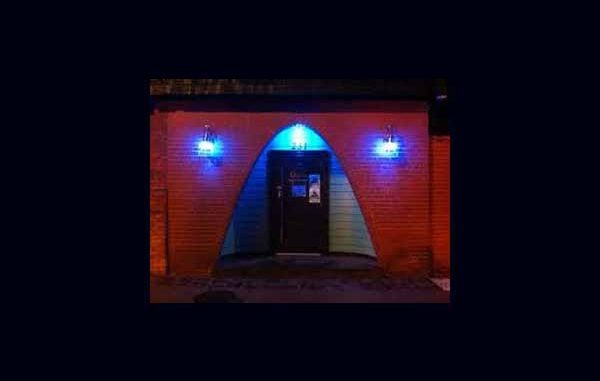 Bathhouse Stories Updated. Fab Magazine has provided an update on two stories that have been published here at Bathhouse Blog.
Gay Bathhouse Turned Rooming House Goes Bust. What happens when a bathhouse is turned into a rooming house? End result is not what you think.
Plus Gay Bathhouse Becomes Straight Swingers' Club. What happens when a formerly gay bathhouse is turned into a swingers club.
From Fab Magazine
What happens to old bathhouses when they die?
Bellini visits two gay graves to find one hetrified and one dying
10.31.2011
On April 1, 2010, Club Toronto closed its doors with an unceremonious hand-scrawled sign that said, "Closed forever." Many of us thought it was an April Fool's joke. Rumours circulated that the cost of repairing the hot tub was more than the club made in revenue, so they just bailed. The property quickly fell into the hands of one Toni Johnson.
Toni was a nudist in her teens, and she and her husband were swingers. She worked at a software company and they had children, but one day she found herself a single mom with a job she didn't like. "I woke up one day and said, 'I can't see myself doing this until retirement.'" So she decided to open her own business.
Club Toronto had been a gay bathhouse for more than 30 years, located in a Victorian mansion built in 1887 on the corner of Carlton and Mutual streets. But once the CBC moved downtown, the club lost most of its regulars and started to sag. The only real attraction was the gorgeous full-size outdoor pool, an ideal place to tan nude.
"When the real estate agent first took me in, there was no power, so they gave us flashlights," Toni says. "A family of raccoons walked by. Inside! And nothing worked. Not the hot tub, the showers, nothing electrical. The termites had eaten through. There were a lot of things to fix." Nevertheless, she fell in love with the place and bought it.
She spent almost a million dollars to renovate, and it shows. The little cubicles were torn out and replaced with large, open make-out areas. One room boasts the back of an old Chevy van — a "shaggin' wagon" — embedded in the wall. There are other orgy rooms, some with two-way mirrors; a full-service dungeon; and three bars, one with a DJ. She keeps the pool temperature high so couples can make out in it. Last New Year's Eve, there were more than 60 people frolicking in the water. As gay men, we should have valued this property a little more.
Though Oasis itself has a strict policy that allows men in only when accompanied by women, Toni rents out the club on off-nights to events like Aslan Leather's Switch Party or Pussy Palace (they didn't want any male staff). There are pole-dancing demos from Aradia Fitness and something called Corporate Role-Play Night. Things have been running smoothly, with the exception of several rather stupid noise complaints lodged by residents in the nearby condo. Toni thinks it's just sour grapes, as one of the complaints was lodged when the club was closed.
"I have nudists who come here just to tan," she says. "Some people are just voyeuristic and then go home to do it." But how much fucking is there on a good night? "It's just everywhere," she grins. "I've seen sex on barstools, by the pool, in every room. I often have to tell people to get off the stairs so my staff can get through. It's a horny place." I express surprise, as I never think of women being as horny as gay men.
"Women are very horny," Toni tells me. "It's just that they risk too much in revealing it. I cater to straight women because they are often fearful, but they deserve to have a sex life. If you saw the shit-eating grins on people walking out of here, I'd say I'm succeeding."
Things are not quite so rosy over at the former home of St Marc Spa, which closed its doors last November. The space then fell into the hands of new proprietors Dong Jae Lee and his wife, In Sook, or Joy. They reopened it as the Marina House Dormitory and ESL School in February. But on the day I arrive for a tour, uniformed guards bar my entrance.
Eventually, I am led up to the office by the Lees, who seem to have mistaken me for a news reporter, as they immediately launch into a tirade. Their landlord, who lives in Taiwan, is evicting them for running a rooming house. They insist that their original lease was for a dormitory and that they operated for four months without anyone questioning it.
It is hard to figure out what the Lees are saying, as they both speak at the same time, at top volume, constantly thrusting all sorts of documents and legal letters in my lap. There seems to be confusion over whether the building is zoned as commercial or residential, but their real estate agent still let them sign a lease for a dormitory. "I asked a thousand times if it was okay to operate," says Joy. "Everybody knows what a 'dormitory' is."
It doesn't help that they also face several fire code infractions, but even this is a grey zone. "The spa had not one smoke detector," Jae says. Worse, the Lees claim that CityTV, or maybe CP24, showed up but refused to file the story. "The fire chief, he told them don't make a big issue. I heard him," Jae claims. The Lees are justifiably frustrated, not just with their landlord, the fire chief and CityTV, but also with the City of Toronto. "The city is ridiculous, too," Joy says. "Why did they not tell us they cannot accept it? They let us sign and they let us operate the dormitory."
In less than a month, the Lees lost both their home and their business. There were also about 100 residents displaced, mostly foreign students and street people. The dormitory/ESL school was not the Lee's first business venture. Since immigrating from Korea, they've run a restaurant, a flower shop and a variety store. But Joy feels that running an ESL school is her mission in life. They put all their energy into transforming the space and claim that running it cost $40,000 monthly.
Oddly, the proliferation of crackheads out front was never an issue with the city. I often walked by, thinking, "Is this the new hustler hangout?" But a quick tour dispels that idea. The formerly black walls have been painted baby blue, bright green and yellow, and Jae renamed the hallways things like Paris Blvd and Hong Kong Ave. The hot tub is not in use because it leaks, apparently. The bar, Grasp, was turned into a lounge with microwaves, birdcages, bookshelves and gnarly houseplants, but the overall layout remains the same. It is a little disconcerting when a door opens and, instead of a nude man, there is a tiny old Asian lady looking back at me.
At the end of the tour, I feel genuinely sad for Jae and Joy. "So," says Joy, looking around, "I lost everything." I can sympathize. Gay men lost something as well — two great bathhouses. Although the fate of the St Marc space is still undetermined, at least we can take comfort in knowing that the old Club Toronto is now one of the hottest hetero spots in town.
We need to get back in there, boys, one way or another. The pool beckons.