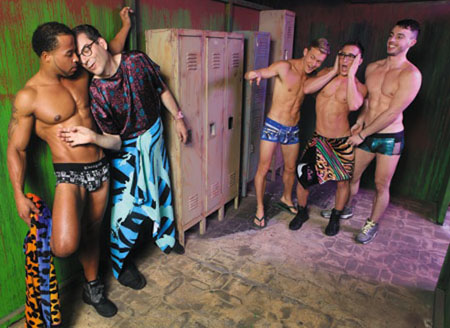 Michael Musto Bathhouse Photo Shoot. Michael Musto recently particpated in a photo shoot for Next magazine.
The theme was "What's your worst gay nightmare?", with readers submitting their worst nightmares come true.
One such reader wrote how he went to the gay baths and discovers his uncle there in flagrante.
So Musto played the uncle in this photo shoot. He is an American journalist and a former columnist for The Village Voice, where he wrote La Dolce Musto. Joining him in the shoot are various models playing the nephews and other patrons looking on.
Michael Musto says "Various go-go boys play my nephew and friends looking on in horror as I cuddle up to a lovely African-American gentleman while wearing a fetching muumuu and beach towel."
But Musto also adds, "It's enough to make you cry Uncle!"
Scary thought. Have any of you run into a relative or even a friend of the family at the baths? It would be pretty awkward. Why not share your stories in the comments section below? It is all anonymous. Mo one needs to know who you are, and what relative you are talking about. Would be interesting to hear other people stories of running into someone familiar at the baths. So start sharing your stories in the comment section below!