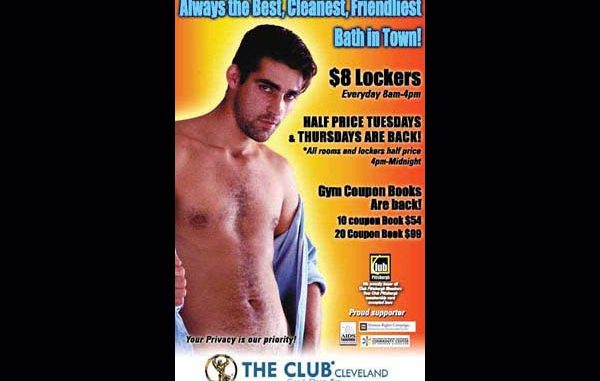 Club Cleveland has been empty for a few years. It used to be the only game in town until the chain of Flex Spa opened a franchise in Cleveland. I don't know the circumstances that led to the Club shutting its doors. Its Facebook page is still up and according to one poster the club owned $63,000 in property taxes. Regardless they have been closed since 2010.
Back then according to its website they advertised themselves as
Club Cleveland provides an immaculate facility that caters to your desires. Enjoy sunning by our outdoor pool; rejuvenate yourself in our "Cowboy" whirlpool; dissolve your tensions in either our steam room or sauna; personalize your workout in our full equipped circuit gym and cardiovascular room; or simply kick back and either socialize in one of our lounges or enjoy a video in your private dressing room.
In 2012 the building even sustained further damage due to Hurricane Sandy. So the chances of someone opening up a new bathhouse in that building was nil. It would be a money pit as it would take a major renovation to get the place back to its former glory.
The property has been sold to Vintage Development Group. They have no plans to be in the bathhouse business. The building that houses Club Cleveland will be demolished. In its place, the company plans to build an apartment building.
If those walls inside Club Cleveland could talk. But since the building will be demolished, those walls will soon be silenced.
But if you want to go down memory lane, just click the Club Cleveland YouTube video below