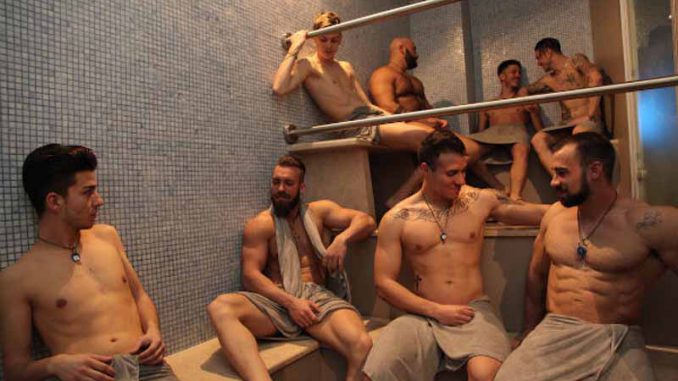 From the gay sauna scene in Minneapolis, Atlanta and Chicago – New Gay Bathhouse Articles
Should Bathhouse Ban be lifted in Minneapolis?
About 50 people gathered at Lush bar Monday night to hear the case for reexamining Minneapolis' ban on bathhouses. Congregate sex is thriving in Minneapolis and St. Paul as innovative medications like PrEP, a once-a-day pill that virtually eliminates the risk of transmitting HIV, are freeing people to live full sexual lives without fear of contagion. Now they're hoping for a centralized, sanitary, controlled place for everyone to go, where shame-free testing is offered on a regular basis.
read rest at Does Minneapolis have the will to bring gay bathhouses back to the city?
Atlanta Flex bathhouse still going strong after 40 years. What's it's secret?
Though modest in appearance, the sign is bold visibility for a location that has preferred to operate incognito for most of its lengthy history, a discretion that helped it survive a puritanical purge in the 1970s, plague in the 1980s and gentrification in the 1990s and 2000s. But in 2017, the operators of Flex feel comfortable enough to remind all passers-by that, amid the construction that continues to re-make Midtown, there remains a bathhouse open and operating on 4th Street, where gay men meet to have easy, anonymous sex.
read rest at Midtown Atlanta bathhouse Flex remains a stronghold of gay liberation 40 years on
Look at the bathhouse scene in the midwest
As the public bathhouses had almost completely disappeared, a different kind of bathhouse had become central to Chicago's gay male community.

In 1961 Illinois became the first state in the nation to repeal its anti-sodomy laws. This opened the door for openly gay bathhouses to set up shop for the first time, although gay men had already been frequenting some bathhouses for several decades.
read rest at Chicago Bathhouses: More Than A Century Of Sanitation, Sex and Sweat
Three great Gay Bathhouse Articles for you to read and enjoy!