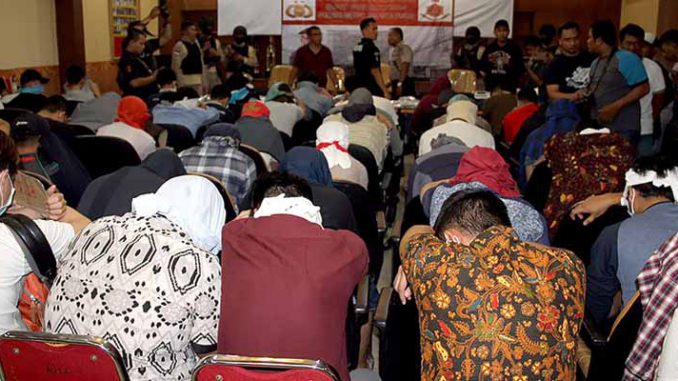 By Agence France-Presse
Indonesian police have detained 58 men including several foreigners in a raid on a gay sauna, an official said on Saturday, the latest sign of a backlash against homosexuals in the Muslim-majority country.

Police late on Friday raided a building in the capital Jakarta that houses a sauna and a gym after they received information from the public that it was being used for prostitution.

"We secured 51 and seven employees for allegedly providing pornographic services," Jakarta Police spokesman Argo Yuwono said in a statement.

Six foreigners were among those detained, including four men from China, one from Thailand and one from Holland.

Homosexuality and gay sex are legal everywhere in Indonesia except in conservative Aceh province, but police have used the country's tough anti-pornography laws or drugs charges to criminalize LGBT people in the past.

The suspects, he said, would be charged under the 2008 Pornography Law and the Criminal Code (KUHP) which carries a maximum sentence of six years' imprisonment.

The arrests are the latest in a spate of high-profile police actions against gay clubs and parties in Indonesia this year that have called the country's reputation for tolerance into question.

With the exception of the ultra-conservative Aceh province in northern Sumatra, where Islamic law is enforced and two men were publicly flogged in May for gay sex, homosexuality is not criminalized in Indonesia, home to the world's largest Muslim population.
For more go to Indonesia: 51 men arrested in alleged gay sex party in spa
UPDATE Gay man arrested in Indonesia shares his story from jail