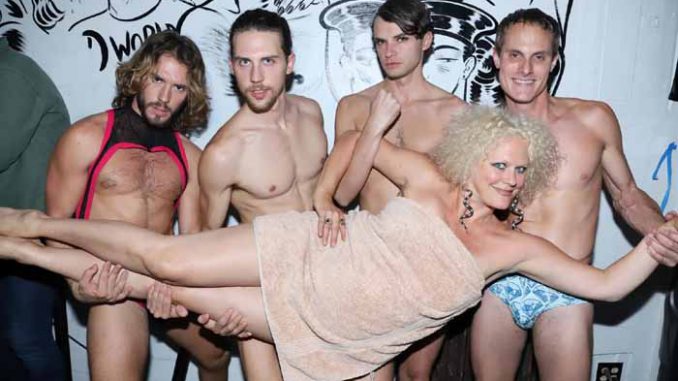 From Daniel Nardicio own press release about his "Bette Bathhouse and Beyond" events
Daniel Nardicio, one of New York City's most notorious and successful promoters and producers, has teamed up with powerhouse singer and comic actress Amber Martin to present Bette Bathhouse and Beyond, which recreates one of Bette Midler's iconic 1971 performances at NYC's infamous gay bathhouse the Continental Baths.

The show has developed a loyal following at packed performances in New York City at Club Cumming (the new boÎte of actor Alan Cumming) in the East Village, and it has toured to New Orleans and Fire Island. Arriving to the show, audience members are
offered a free clothes check and provided towels to wear as they enjoy the show and cruise the bar. The format typically sees Amber Martin perform three 20-30 minute sets over the course of the night backed by piano and drums. As the evening wears on the towel-clad audience begins to engage in more intimate acts that recall the activities at the Continental Baths! It's a frisky, sex-positive event featuring the incredible vocal and comedic talents of Amber Martin in homage to the one and only Divine.
To find out when the next Bette Bathhouse and Beyond event is taking place check out Daniel Nardicio Events Facebook Page
Water Amber Martin in "Bette Bathhouse and Beyond" performance at below