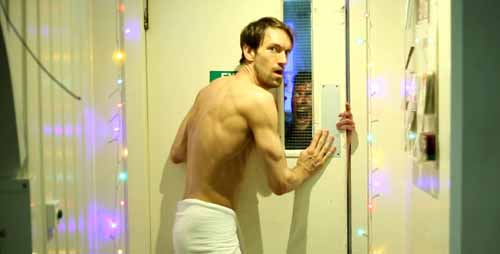 Inspired by mean guys on Grindr and the idea of the sauna as its own little world. Fusing a love of 80s fantasy adventure movies, Disney and zombies, first-time writer/director Tom Frederic presents a genre-hopping modern day fairy tale exploring how the way we treat each other creates the worlds we live in.
The director of this film, Tom Frederic, was asked about the state of the baths today.
Question: Equally, some would argue that saunas aren't needed anymore, as LGBT people become more accepted in society – would you agree?
Tom Frederic: No, I wouldn't. Great as our increased acceptance in society is, I think saunas are unique spaces that still serve an important purpose. They are used by a lot of men who don't feel comfortable going to other venues to connect with guys, and as such are actually more diverse than other venues can be, and not just ethnically, but socially too: a sauna is a sauna, and they aren't as bound by other categories like scene type or social status. I don't think there's anything else quite like them, and I don't think they are inherently bad places we should be ashamed of.
Watch the trailer to this film below