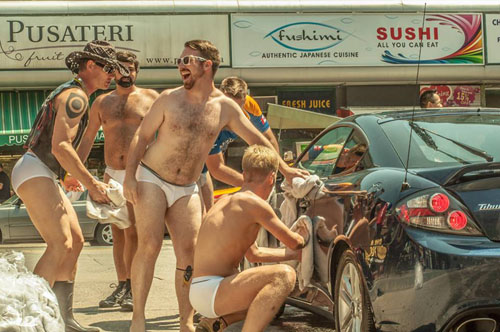 A few days ago Steamworks Toronto held their annual car wash event. Located right outside their doors, this event raises money every year for PWA Toronto.
As they say on their blog:
Hosted by Peter Rex (Mr Steamworks 2007 currently Mr Rubber Toronto 2013) and David Knott (Mr Steamworks 2013) and with the help of many volunteers, sponsors and mother nature we raised $4650.20, for the many recipients of PWA Toronto. Steamworks has been the presenting sponsor and organizer of the Tighty Whitey Car Wash in Toronto since 2007 and over the years has raised $37, 568.86.

Volunteers included men from the Muddy York Rugby team and sponsors included Cafe California, Woody's, and the participation of Pegasus on Church, North Bound leather and Calvin Klein Underwear.
John Broadhagen, general manager of Steamworks said
"More than 30 volunteers will be out to raise money for the Toronto People With AIDS Foundation," says . "This is our seventh year for the event and we have raised close to $40,000 for PWA."

"It started as a charity function put on by Mr. Steamworks and it's a great community event that gets a lot of attention and allows us the opportunity to give back to the community,"
Some pictures of the event courtesy of Richard Rhyme Facebook. So looking forward to next year!