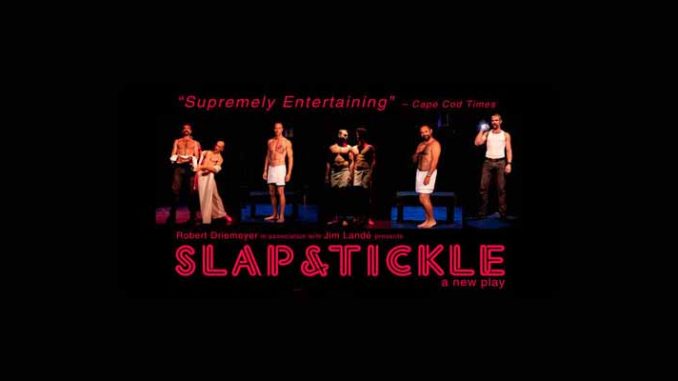 Four cast members from the recent Provincetown production of Slap & Tickle will reunite for a free reading of the play in New York.
From its official website
Slap&Tickle is a funny, sexy and provocative play about modern gay man's quest for sexual and emotional fulfillment in a landscape changed over the past 25 years by drugs, politics, HIV and the internet. Six actors portray twenty recurring characters whose lives all intersect in surprising, humorous and revealing ways. The stories shared range from first kisses to last loves; from on-line hookups to off-line breakups; from sleeping bag seductions to bathroom rapes. Like Terrence McNally's The Ritz and Eve Ensler's The Vagina Monologues, David Parr's Slap & Tickle shines fresh light on the darkest of places, giving voice to the defining experiences of our lives that are too often kept silent. What emerges is a play not just about sex but about our universal desire to connect.
Todd Flaherty, J. Stephen Brantley, Joseph Mahan and Aaron Tone will reunite with director David Drake from the Provincetown production.
Stephen Bienskie will also be participating in the free reading.
This reading will take place presented at the Bruce Mitchell Room of Art New York (520 Eighth Avenue, third floor), on Monday, October 25 at 8:45pm. Admission is free, but reservations are recommended.
The reviews have been excellent. With the Cape Cod Times writing "Revealing, sympathetic and haunting…" While the Weekly Planet says "Theater doesn't get much more candid than this" And finally Christopher Byrne of the Gay City News says "This is something to welcome"