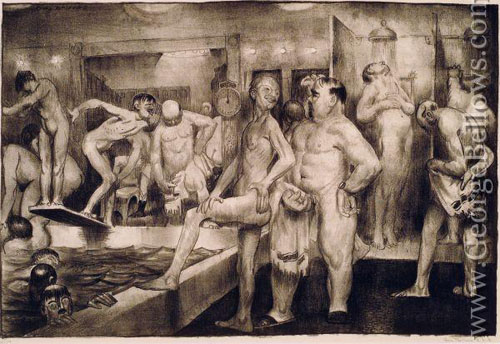 The Tacoma Art Museum is displaying the controversial 'Hide/Seek' exhibition that covers almost 150 years of GLBT works of art.
First displayed at The Smithsonian Institution's National Portrait Gallery, this series looks at how gay and straight communities intertwined much more freely.
One print called Shower Bath by George Bellows truly stands out.
Created in 1917, it spotlights the activity that takes place in a men's public bathhouse. You can see two men are checking each other out. Which leads some to confirm that man on man encounters were a regular part of some men's worlds.
Says Hide Seek co-curator Jonathan Katz,
"What I wanted to show is that this is not just gay art or gay works, but that gay and straight are indistinguishable. And that a number of the straight figures of American art made work of directly homoerotic social import because before 1950 gay and straight were much more familiar with one another than they are today."
"The past is very, very different and this makes that clear. What's going on here, George Bellows, the most significant artists of his era, making a homoerotic picture in which a homoerotic relationship is front and center."
To read more about this exhibit and the lithograph go to Controversial 'Hide/Seek' appears at Tacoma Art Museum
As well as Was a homosexual life as public before WW2 as now?