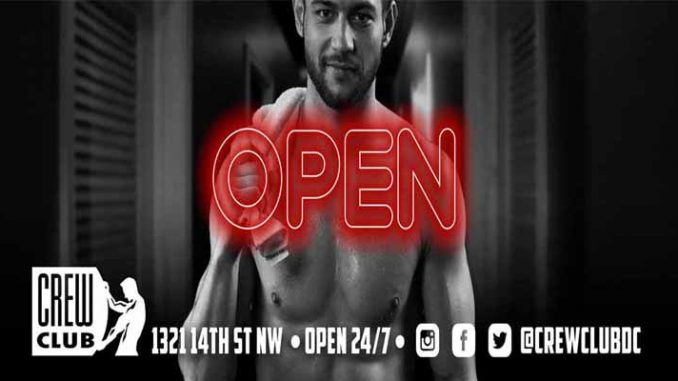 After serving the gay community for 25 years, the Crew Club has decided to close its door. The owners Ken Flick (70) and DC Allen (63) received an offer to sell the building, and the price pitched to them was an amount they couldn't refuse.
From their Facebook page is the following statement
Thank you for 25 years of love, support, patronage and community. On February 29, 2020, The Crew Club will close its doors. This was a heart-wrenching decision for us.
It's been an honor serving the DC community. Our true measure of success and joy was not from any financial reward, but came from a love for this community, the opportunity to offer a safe and liberating space to our membership, and the ability to provide employment to our loyal and hardworking staff.
Farewell,
DC and Ken
Allen told the Washington Blade
"We sold the building four years ago at the height of the market and we were trying to work out a lease-back program but it just didn't seem to be working the way I thought would be a profitable thing to do," Allen told the Blade.

"And the building was worth a lot more than the business," he said. "So it wasn't feasible. All that would be left after the building sale is just the name and people don't want to buy just the name," Allen said.

"And also, my husband is not feeling particularly well and I have had some health problems," Allen said. "So I thought it was really time for us to retire. And frankly, I've had a really good run for 25 years. And I think we have a pretty good name and I want to keep it that way."
UPDATE: the day after the closing announcement was made, the buyer had backed out and a new enterpreneur stepped in to take over the business. But then Covid19 hit and the entire deal fell apart. So now the business has officially closed and the building is up for sale. See below for more.
Read more at Crew Club building for sale or lease; owners may not reopen
Update – With Crew Club closing, what's the future of the gay bathhouse in D.C. and beyond?