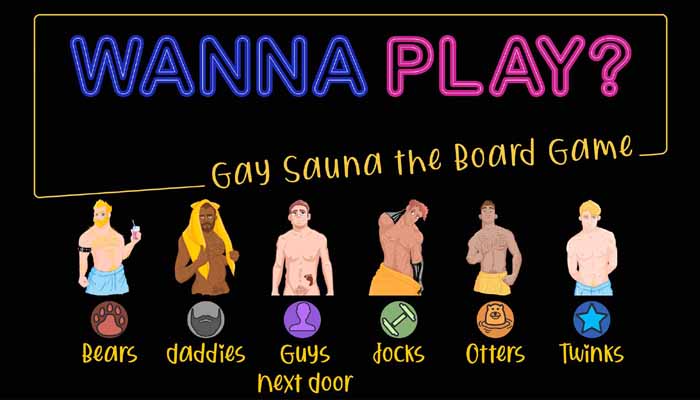 From its game website
Gay Sauna the Board Game is a new tabletop adult adventure game where players compete against each other navigating a busy night at a Gay Sauna to flirt and hookup with as many of the hot visitors as possible.
Trying to find a hookup in a bathhouse shouldn't be that difficult though surely? Well, reality is always a little more complex than you would have thought. Just like in real life, the visitors to the Gay Sauna the Board Game sauna have their own unique set of kinks and personal preferences, so players need to be on their top form to ensure they are in the right place at the right time to get lucky with their pick.
Taking place on an expansive board with 6 different sauna room areas (including the mysterious dark room) each with its own unique special effects, players will have to think ahead to not be caught out getting too tired or distracted.
Of course no night at the baths would be complete without some shenanigans, and you'll not be disappointed with Gay Sauna the Board Game. With a huge variety of tricks and goodies at your disposal to ruin your friends chances whilst boosting your own odds of adding one more to your pile of conquests.
Its creator Adrian Collier adds
Since October I've produced version 3 of Gay Sauna the Board Game, and am busy play testing this version. With a new set of 120 visitor cards and lots of improvements on shuffling, action and event cards, this is showing a lot more promise in reaching a final stable model. I'm not finished with tweaks yet though – I've got lots of potential options for changes that I'm planning to test out in the upcoming play testing sessions.
They are looking to raise about $30K to achieve the dream of a "Gay Sauna Board Game" – if you want to contribute go to their kickstarter campaign here & watch their video below