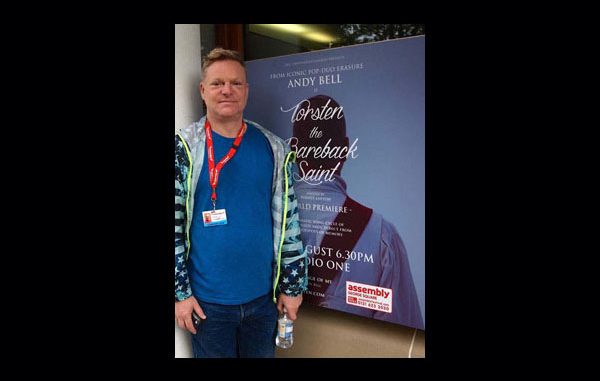 Andy Bell Erasure is a icon not only in the gay communities of the UK, but all over the world. Though others paved the way for him to be openly out in the music industry (Boy George, Holly Johnson and Jimmy Somerville from Bronski Beat), the music of Erasure became an anthem for so many gay men.
Erasure shows no sign of slowing down, as the duo will celebrate 30 years as a team come 2015. In between their gigs Andy Bell focuses on other projects. One of which is a new one-man show Torsten The Bareback Saint. According to press releases the play is a "sub-operatic theatrical cabaret pop/performance art".
It is set to debut at the 2014 Edinburgh International Fringe Festival. Even before opening, the show has been named one of the 'Top Ten Pick Of The Fringe' by The Times newspaper.
There is even a song in the play called Boy From The Sauna. Which is autobiographical as Bell frequented many gay saunas in the UK and around the world. He says
In the early Erasure days I would go to a few saunas in America and one of my past boyfriends used to go there all the time. The song relates to me. Just the feeling of being on the gay scene in the early days because I was hopeless at cruising. Really hopeless. I could never do the eye-to-eye contact thing."
Watch the trailer below. Go to the official Facebook page for news on upcoming events and music releases from this show