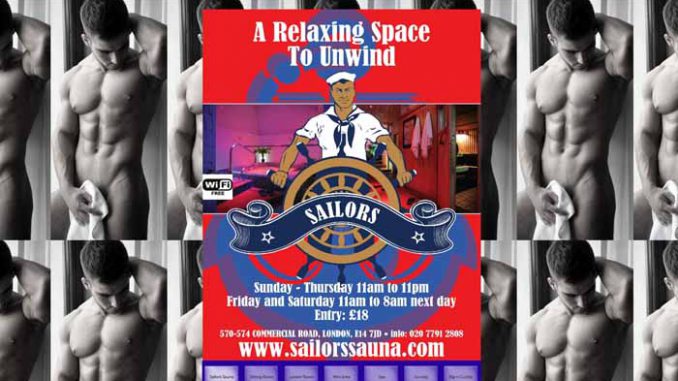 A London gay sauna kicked out a trans man for not having a penis.

26-year-old Jason Smith (not his real name) identifies as bisexual and says he's a 'very passable trans man'.

He decided to go to the Sailors Sauna in Limehouse in London's East on Monday night (29 October) with a friend.

The transgender man was a little unsure about going to the sex-on-premises venue so he checked their website beforehand for any trans-specific policies.

'I was a little nervous about being trans as I haven't had bottom surgery but was reassured [by my friend] there would be no issue,' Jason told Gay Star News. 'So I thought I'd double check on the website.

'There was no information I could find that states trans men are not welcome, or any information on rules,' he added.

The pair got into the sauna at around 9.30pm and were there for about an hour, according to Jason.
It'd be fine if you had 'tits and a dick'

But when they were in the jacuzzi, a member of staff came up to Jason and said he needed to leave.

Jason said: 'A staff member came over and requested I leave… as I was not allowed because of my genitals.'

When Jason protested, he says the member of staff simply repeated it was a 'male space'.

The trans man then showed the sauna employee his passport with his male gender marker.

He claims the member of staff repeated it was a male space. The staff member allegedly said if he 'tits and a dick,' it'd be fine – but since he has a vagina, it's not.
Smith did leave the premises and was refunded his entrance fee.
Sailors Sauna says in a statement, 'On Monday evening, a customer informed a member of staff that a woman was using the venue.
'I can only confirm what was said on the reception. The customer was told we did not know how we would stand in regards to our license. We are only licensed for men to use the venue.
'I understand that the gentleman was male however his physical gender was different and as a customer had already stated that a female was using the venue, I explained that I would need to clarify with the council.
'The customer was given a full refund and we did apologise.
'We have had confirmation from the council that if someone has a GRC [Gender Recognition Certificate] or ID confirming they are male, we would not be in breach of our licence.
'I would also like to confirm that transgender men are welcome in our sauna,' the spokesperson said.
A Tower Hamlets Council spokesman said: "The licensee in this case has sought clarification from the council as to whether our licensing conditions impose any restrictions based on gender identification. They do not.
"We understand the venue has now clarified that transgender men will be welcomed in future."
Paul Twocock, director of campaigns at the gay rights charity Stonewall, said: "There's widespread misunderstanding about the legislation on this issue. Trans people's right to use single-sex spaces that match their gender is already settled in law.
"The 2010 Equality Act clearly protects trans people from being discriminated against when accessing services. We'd encourage local government authorities to take steps to ensure all service providers are clear on how to support trans people."