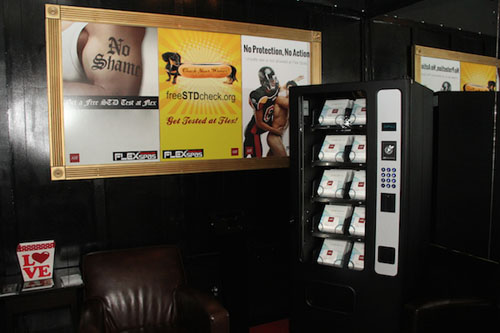 Bathhouses all over feature vending machines to buy just about anything. Soft drinks, junk food, underwear and even sex toys. But at Flex Spa in LA they are introducing a new product to their vending machine.
Free HIV testing kits will be offered via vending machine and offered for free. This measure is being funded by AIDS Healthcare Foundation (AHF). Normally this free testing kit would retail for $46.00.
President and chief executive of Flex Spa, Todd J. Saporito says, "Flex Spas is pleased to partner with the AIDS Healthcare Foundation on this groundbreaking effort"
Though the kits are free, users will have to anonymously answer five demographic questions on an iPad kiosk and get an access code; users can get two kits with each code.
The HIV testing kits will be expanded to other Flex's bathhouses in Atlanta, Cleveland and Phoenix in addition to Los Angeles.