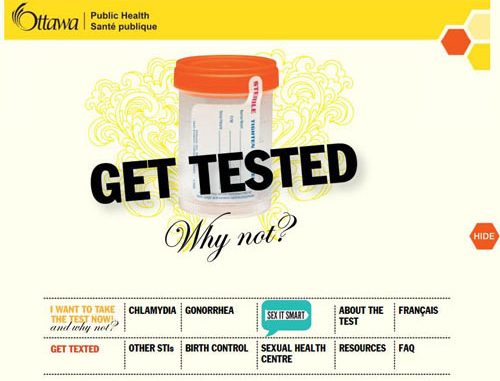 Rates for testing positive for Chlamydia have increased every year. In fact it is now the number one reported STI.
To combat the rise of infection rates Ottawa Public Health is reinstating its "Get Tested, Why Not" anonymous STI campaign in both Ottawa Baths. This is to encourage more men to get tested for STIs.
As Bradley Turcotte writes
Chlamydia is now the number one reported sexually transmitted infection (STI) in Ottawa, after three years of steadily increasing rates. In response to this rise in reported cases, Ottawa Public Health (OPH) has reintroduced a confidential bathhouse testing project in an attempt to curb the spread of the sometimes-silent bacterial infection in the gay community.
Male patrons of Steamworks for Men Ottawa and Club Ottawa Baths can get tested for Chlamydia by providing a urine sample and contact information. This is to encourage testing for those who don't want to see a clinician.
For more read Chlamydia is Ottawa's number one STI.