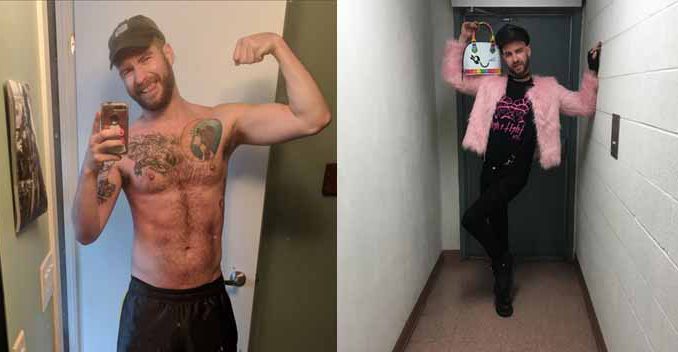 It all started when local DJ Scooter McCreight was refused entry into Steamworks Toronto Bathhouse. The reason? He looked to feminine.
He tweeted the following day
Starting today with a community discussion about how I was denied entry into @SteamworksTO last night because they have a rule AGAINST WEARING NAIL POLISH! Let's discuss!
Scooter identifies as a cisgender man. The evening in question he was wearing pink and blue eyeshadow and silver nail polish. Scooter said the doorman told him
"He says you can't wear that inside, and I'm like, I'm going to be naked inside, so no problem. I just left. I was not in the mood for any confrontation in this space," he says. "Really what it comes down to is they weren't into what I was presenting that night, and used whatever rule they had to deny me entry."
After this story went viral management at Steamworks reached out to Scooter to apologize. They later released this statement
"After further review, it's become clear some of our staff have misinterpreted our admittance policies. We have addressed the issue with the employees involved and we'll be providing additional training to all staff ensuring this error never happens again. As a club for men, we welcome ALL men, INCLUDING Transmen or individuals who identify/present as Male,"
However other cisgender men started to come forward saying they too had been refused entry for wearing make-up.
Justyn Jolie, who is gender non-conforming, saying
"I was wearing makeup, but I love wearing makeup when I go out. I wasn't even the first in line — I was five people down and they singled me out," Jolie says. "They asked how do you identify and I was like, 'I dunno, my ID says I'm a guy, but it's however I feel like on the day.' They said, 'Sorry we don't let anyone in if they're wearing makeup.'"
Steamworks manager Matthew Ladouceur responded to the new complaints saying
"We are a club for men. That does include trans men. We ask that you try to present as male as you walk around the club for the enjoyment of others. There's no policy regarding makeup. We've been doing our best to explain to anyone who's asking that there's no policy against makeup or nail polish."
Read more at Steamworks Toronto In Trouble After Doormen Rejected Men Because Of How They Looked