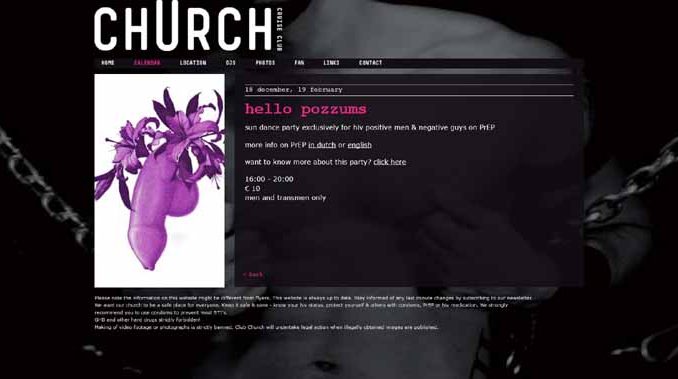 This article originally appeared on VICE Netherlands.
Since 2012, Amsterdam's Club Church has been hosting an event called Hello Pozzums, targeted specifically at gay men who are seropositive for HIV. Recently, they also started welcoming "negative" men, who take the HIV prevention drug PrEP (or Truvada) to these parties.
It's owner Richard Keldoulis was asked about these Poz parties in an interview with Vice
When you started throwing parties for seropositive men in 2012, you wrote: "'People with HIV are still being discriminated in the cruising scene. HIV-positive men want to be able to enjoy an event, where having HIV is the norm, where there's no stigma. Club Church wants to create a space where HIV-positive men can feel physically uninhibited, where one's HIV status is not an obstacle." Now you also welcome seronegative men that take PrEP. Why?

We want to do away with the taboo around HIV, also within the gay scene. We wanted to create a space for men that are seropositive, so they too can have unprotected sex. But we've also known for a number of years now, that when you're positive and you're taking your meds, you're not at risk of infecting others. Moreover, people that take PrEP cannot get HIV. So gay sex keeps getting safer. In the end, the most dangerous men are the young guys, who don't know their status.

Do you feel responsible for the well-being of your guests?

I've always felt responsible for their safety. We have free condoms lying around everywhere in the club, and we actually used to go around checking if people were using them, but we don't do that anymore because, as I said, PrEP makes things less risky. But at the end of the day, it's not for me to tell you how to have sex.

How do you feel about HIV becoming less and less of a threat thanks to those new drugs?

It's fantastic news, obviously. You know, when penicillin became available during the Second World War, syphilis suddenly became much less of a problem. That's why until the 1980s there was a sweet period, when people were not that afraid of deadly STDs and sex was pretty free. Then AIDS came along in 1981, and fucked it up for everyone.

Hopefully now we can pick up where we left off with the sexual revolution. I'm already enjoying more freedom now. I used to religiously use condoms, but ever since I got on PrEP, I got rid of the condoms and, most important, the fear.
To read the entire article about these Poz parties go to Why This Club Owner Is Organizing Sex Parties for HIV-Positive Men