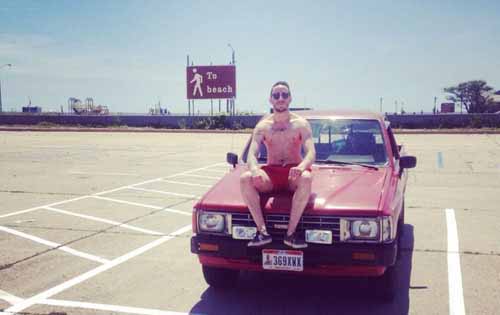 Thomas Page McBee is a writer who has the moniker of "masculinity expert". He was a regular contributor to VICE magazine on the subject. Now he writes similar columns for a number of magazines. Later on this year he is gearing up to publishing his new book. Man Alive, his memoir about what makes a man.
Thomas is a straight man who has gone through his transition. From female to full fledged male. FTM. He has just written a piece of going to the NY gay baths as someone who is fully male.
I have to say it takes plenty of guts and courage to go to a NY gay baths after transitioning. But it is not that uncommon.
There are plenty of FTM and MTF walking the hallways, and you would never know it. Especially in the dark room. Who can really see who is giving or receiving oral?
Thomas writes
I'm here because, for me, a straight, bearded, tattooed trans man with a different sort of anatomy, a bathhouse feels thrilling, dangerous even. Everything about me is self-made, hard-won: this hairy stomach, these chest muscles, this carefully trimmed beard — all of it a mosaic that makes my reflection strange but not dissonant, all of it my ticket into this grimy, foul-smelling, sexed-up space.
This is a terrific first person account written from the trans male perspective. To read it for yourself go to The American Man: A Sunday Morning at the Bath House.