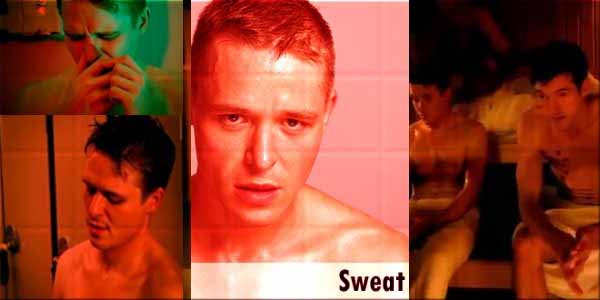 This is a short gay bathhouse film entitled Sweat. Simon's first time in a sauna, how much trouble can one boy get into, or out of? Directed and written by John Lochland in 2008, Sweat follows an afternoon's adventure in a gay bathhouse for Simon, played by David Paisley (Holby City and River City).
Writes John Lochland
Sweat is the story of an afternoon of debauchery and intrigue as Simon takes leave of his senses and heads for a sauna. Negotiating the humiliating locker room strip where he inadvertently injures a fellow punter, he forges his first impromptu introduction to a handsome man called Tim. Nerves prohibit normal conversation as they share an empty sauna and both of the attractive men shy in each other's presence. Later, Simon encounters an opportunistic rent boy called Tiger and is amazed that at seventeen, he seems to have learned more about sex than Simon has in all his twenty-five years. Further into his journey, an experiment with poppers and some very public sexual displays, leave him wondering what he came for, and possibly leaving none the wiser, albeit with a phone number and a wry smile.
Follow Simon's first-hand view as he enters, removes his clothes and encounters some weird and wonderful things. This short film also stars Tom Frederic and Tom Swash.
Watch the fantastic video below!