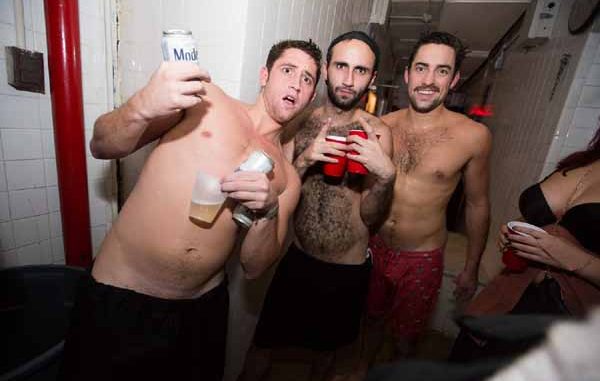 Now before you get excited, the party was at a straight bathhouse. Which took place at the Russian and Turkish Baths. Describes on its website
Since 1892, we've served New York as the place to experience an unexpected paradise. The Russian & Turkish Baths features 5 saunas and steam rooms, a cold plunge pool, a roof deck, and restaurant. We also offer massage services and treatments.
The attendees were all straight, the gals and the guys (damn it!).
What was unusual about this party, was who turned up. It was a who's who of internet start-up companies.
In attendance: General Assembly cofounder Matthew Brimer; David Champion, the founder of Zuse and infoHubs Network; Rameet Chawla, a mobile architect at Fuelled; GroupMe cofounder Steve Martocci; Josh Currie doUdeal; and LaunchRock cofounder/CEO Jameson Detweiler.
So you have these cutting edge techie entrepreneurs, all getting wet and wild in a Russian bathhouse. Clad in only swimming trunks that leave little to the imagination.
These pictures, courtesy of Nicky Digital, have these tech guys showing their skin. I've tried not to show the gals, cause after all this is a website for gay men.
However if you want to see more go to Turkish & Russian Bathhouse Party at Digital Nicky.