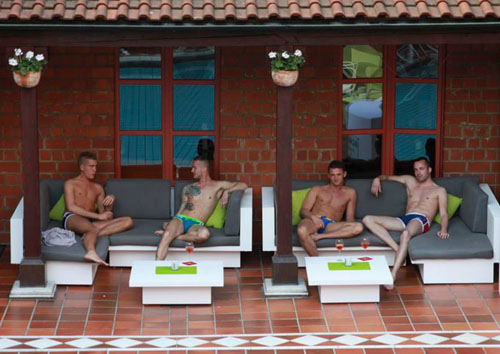 Logan McCree is one of the hottest gay porn stars in Germany.
According to Wikipedia
Logan McCree (born Philipp Tanzer on December 31, 1977), also known as Kriegerbeatz or DJ Krieger, is the stage name of a German DJ who began working as an adult-film actor in gay pornography in 2007, exclusively-signed to the Raging Stallion Studios production company with a three-year contract. He is widely-known for his unique and distinctive tattoos over most on his body, including his penis, buttocks and scalp. Most of then are related to angels, as all his tattoos have spiritual meanings. McCree came to prominence in 2004 as Germany's Mr. Leather. He starred in and was the cover model for his 2007 debut film, Ink Storm, which in 2008 won a Grabby Award for Best Fetish Video. In 2008 McCree starred in and wrote the screenplay for a film entitled The Drifter. On the set, he met and began a long-distance relationship with American porn actor Vinnie D'Angelo.
Unfortunately the entire video is in German. However Logan takes the viewer on a tour of the sauna, and even gives fans a treat by taking a shower naked! No translation is needed for that scene. Watch the scene for yourself below. And to learn more about Logan go to Logan McCree TV