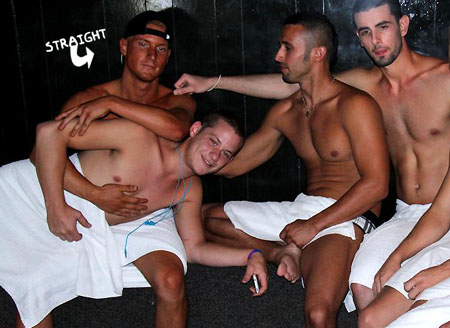 Bathhouse Sex Website. GayRoom Network has launched a brand new site, Bathhouse Bait.
Yes it is a gay porn site, but it has a very interesting concept.They video record straight guys on their first time adventures at the baths. Having gay bathhouse sex. Some of these guys don't even know what a bathhouse is. All they know is, there's a lot of guys there. Guys that seem really interested in them. These guys are being more than just friendly.
This site also features appearances by Gavin Waters, Travis Irons, Shane Frost, Alex Andrews and Alexander Garrett.
As Porn Inspector writes about this site
You're looking at a very simple and to the point tour here at Bath House Bait, a tour that's packed with photos and the offer of access to a big and crazy archive. It's about first time gay sex, with straight guys, at the saunas and bathhouse, at the pool and in the locker rooms and there's certainly plenty of horny, wet flesh to get you interested. There are loads of videos offered and, by the looks of it, loads of hardcore too.
If you are a fan of the baths, you have to check Bathhouse Bait out!