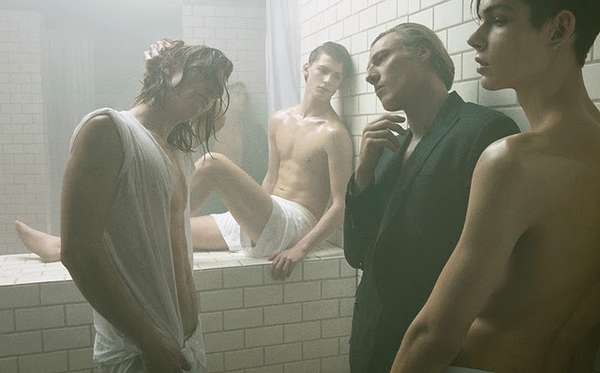 Photo Shoot Set At Gay Bathhouse. The February edition of Interview Magazine features a fashion layout photographed at a gay bathhouse.
They write
Interview Magazine's February 2011 issue heats up with 'Elegant Tailoring' by Mikael Jansson. Set in a hazy steam room occupied with a half-dozen sweaty gentlemen, these scenes are heated in more ways than one.

Tension is running as high as the temperature in the bathhouse-based editorial. Showing varying degrees of interest in their fellow locker room occupants, models including Bastiaan Van Gaalen, Mathias Bergh and Ethan James give 'Elegant Tailoring' by Mikael Jansson a sensual appeal.
Elegant Tailoring was photographed by Mikael Jansson .
Mikael Jansson, 1958, Sweden is a fashion and celebrity photographer. He has shot campaigns for clients as DKNY, Dior and Calvin Klein. He also shoots fashion editorials for Vogue and Interview magazine. Celebrities as Rihanna, Ryan Gosling and Eva Mendes have appeared in front of his camera
How did he get interested in photography? He says
"Since I always loved music and was very into Bowie, I began photographing bands that came to Stockholm. I was very into it, but this was actually before knowing I wanted to work in photography; it was just an interest. Then I met a girl at a Bowie concert who was a model and we talked a little. She told me that she worked with a great Swedish photographer, Carl Johan Ronn, who needed an assistant. So I went to see him, he hired me and I worked with him for 5 years in Stockholm."
Go to Trend Hunter to see more photos!