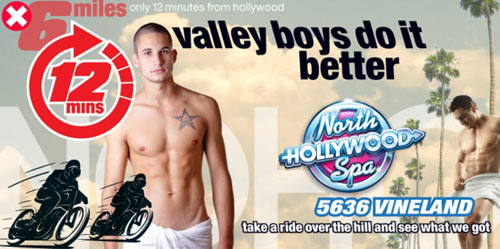 One of the most historic and oldest gay bathhouses in the US is set to shut its doors. Hollywood Spa first opened its doors in 1974 and had not only survived but thrived. But after 40 years the owners cannot afford the rent.
Located at 1650 Ivar Ave, the current landlords want to double the rent of nearly $30,000 per month. The Spa is already six months behind in the rent already.
Weho Ville writes
Hollywood Spa opened in 1974 and, before the advent of HIV and AIDS, was a major destination for gay men who had few other places to meet one another. It had 100 private rooms, a DJ, a steam room and jacuzzi, an "adult video" lounge, a gym and a cafe. The spa boasted on its website that it hosted over 100,000 visitors a year. Conditions apparently have deteriorated in recent years, with commenters on Yelp.com and various gay websites complaining about poor maintenance and customer service and drug use by spa customers.
It is likely to close within the next two months, so if you want to enjoy the Hollywood Spa one last time, you better book your next trip. And fast.
To read more go to One of LA's Oldest Gay Bathhouses, Will Close Soon
UPDATE Keep watch on Hollywood Spa Facebook page for details on a closing date and their Last Big Hurrah!