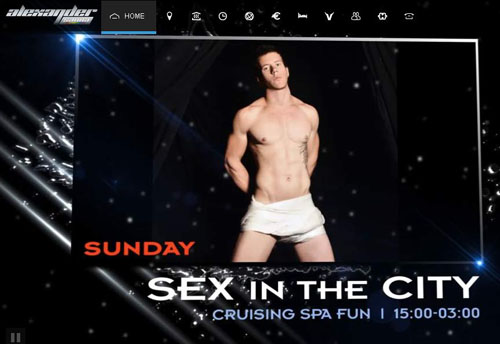 Found this uploaded on You Tube a few days back. A tour of Alexander Sauna, an Athens Bathhouse. Looks like a fun place to go!
Alexander Sauna offers you a large, peaceful garden area where you can relax, enjoy your drink and most of all, feel the energy of gay Athens. The very name "Alexander" is an allusion to the Hellenistic years. This Athens Bathhouse is located in the heart of Gazi gay village.
Travel Gay Europe writes of the place
Athens' most popular gay sauna, located in the heart of Gazi gay village. Alexander offers 4 floors, with private cabins with TV, dark room, dry sauna, steam room, maze, X-action area, jacuzzi, bar and internet room.

There is also a small shop selling underwear, accessories, DVD's and magazines. Free towels, slippers and condoms are provided. Expect live shows, themed nights, go-go dancers and strip shows.
Unfortunately the interview is conducted in Greek. However there is a tour of the Sauna, and you definitely don't need a translator for those images. With this tour you can see that Athens at last has a sauna that can satisfy a modern demanding man. Enjoy watching this report below.
Alexander Sauna – Part #2