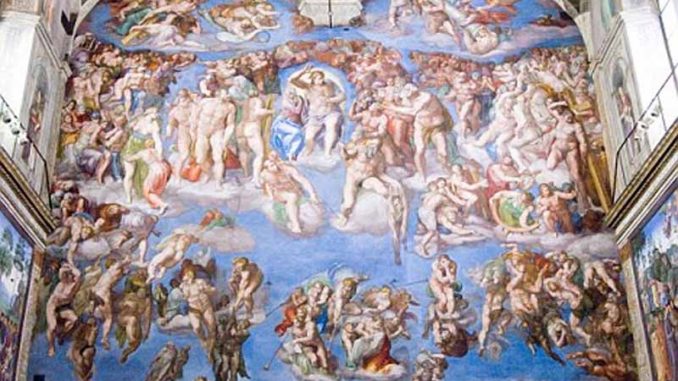 Michelangelo Last Judgement. Historian and researcher Elena Lazzarini, of Pisa University, has said that the fresco, was most likely inspired by Michelangelo's visits to the gay saunas and brothels of Rome in the early 1500's.
According to Mrs Lazzarini "The very virile male bodies you can see in the fresco have the build of laborers and manual workers of the day, very muscle bound and well built."
"Michelangelo and several of his artist contemporaries would visit these brothels and saunas and you can see how they modeled their figures on the bodies of the men they found in there, including their pained expressions"
"For example in the fresco you can see one poor soul being dragged down to Hell by his testicles whilst among those that are going to Heaven there is a lot of kissing and hugging, certainly of a homosexual nature."
500 years ago Rome had several gay saunas, which were also popular 2,000 years ago during the time of the ancient Romans.
Elena Lazzarini adds "They were well known haunts for homosexuals and also where men went to have beauty treatments such as hot stones or having blood sucking leeches attached to their bodies."
"There were also rooms available where clients could make use of male and female prostitutes in between the various treatments they were having and these were popular haunts for Michelangelo and his fellow artists."
"There is documentary evidence that Michelangelo visited these places and its very likely he drew inspiration for the male form from these saunas which he used in the Last Judgement."
Michelangelo never married, yet had a very close relationship with a man in his twenties, when her was in his fifties. There are about 300 love poems from Michelangelo to this younger man.